Recreation - Motorised Craft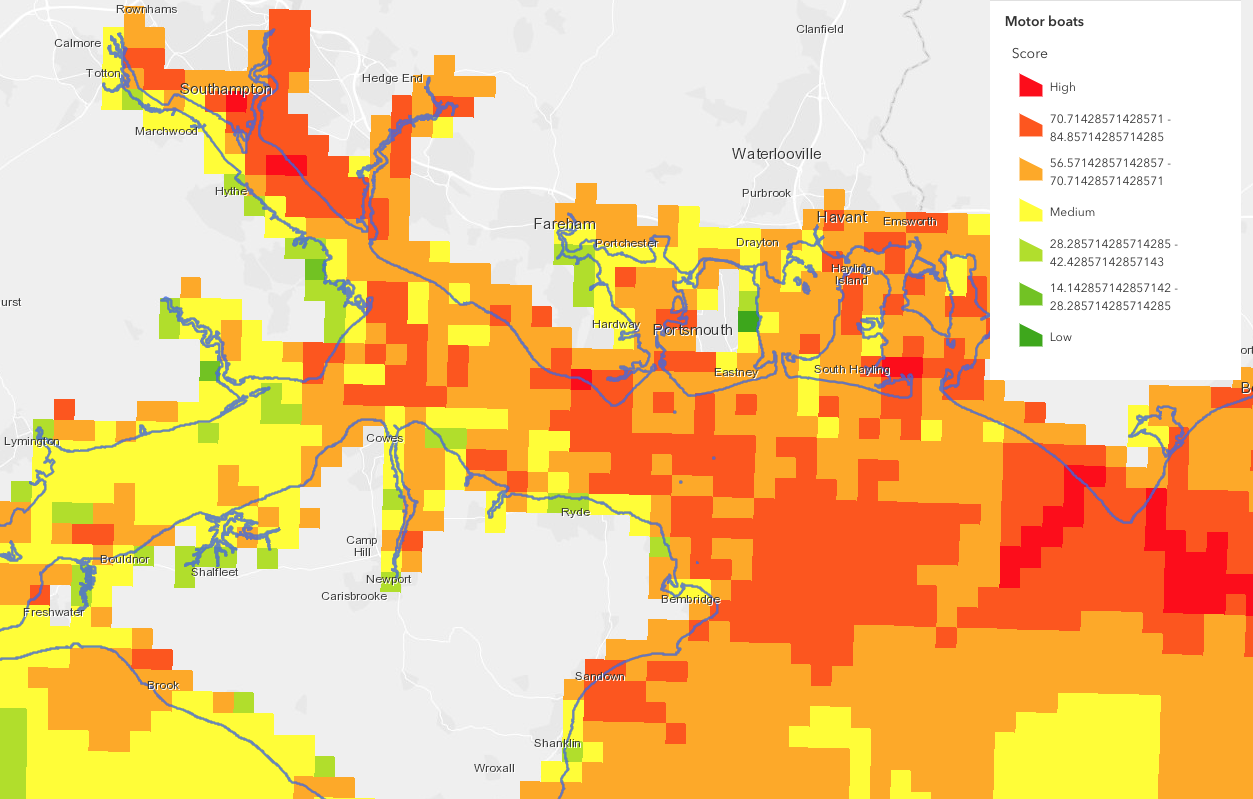 The activity includes the use of motorised vessels, including motorboats (powerboats) and yachts in marine waters. This category also includes watersports that are towed behind a motorised vessel including wakeboarding, waterskiing and parascending. In general, these activities take place in coastal, inshore and offshore waters all around the coastline where marina and berthing facilities, or launch facilities (slipways), are available. Although these activities are widespread, activity in England is most concentrated around the South East and South Coast, where there is the highest concentration of marinas and clubs.
Activity Map
The map on this page illustrates the potential for motor boat activity in English waters as part of the MMO1064 marine recreation modelling project. The areas of highest potential are shown in red, progressing down through orange and yellow to green. Use the MMO Explore Marine Plans service for more detailed information.
Impacts
Natural England's publication 'Motorised watercraft (powerboating and sailing with an engine) (EIN027)' reports that the main impacts from this activity are:
Abrasion/disturbance of the surface and sub-surface sediment in shallow subtidal habitats through propeller/engine wash.
Underwater noise disturbance of marine mammals and birds, related to engine operation during the activity.
Above water noise and visual disturbance, of hauled out seals and birds related to people and/or vehicle noise during vessel launch/recovery from slipways and from people noise, engine operation and the vessel moving through waves (craft striking waves or 'hull slap') during the activity.
Visual disturbance of marine mammals and birds, related to the presence of people and the vessel during launch/recovery and during the activity.
---
National Watersports Participation Survey
A National Watersports Participation Survey is conducted annually by a consortium of leading marine bodies including British Marine, Royal Yachting Association (RYA), Maritime and Coastguard Agency (MCA), Royal National Lifeboat Institution (RNLI), British Canoeing (BC) and the Centre for Environment, Fisheries and Aquaculture Science (Cefas). Download the Executive Summary report, 2018. Key findings include:
With 2018 being the UK's joint hottest summer on record, it is no surprise that participation in watersports activities has increased. This was mainly due to a surge in the easy access activities – a higher proportion of people spent time at the beach and coastal walking in 2018 than previously
Summer remains the key season when most of the activity takes place, with over half of people participating between June and August
Participation in boating activities has remained consistent with last year which is positive given the decreasing consumer confidence and economic uncertainty as a result of ongoing Brexit negotiations. Boat ownership has also continued to increase, but this is largely as a result of more people owning canoes and kayaks
The proportion of Casual boating participants has increased; 145,000 more people have taken part once in an activity compared to last year. The proportion of Enthusiasts has however dropped, with 164,000 less people participating 6 or more times in their activity within the last year.
---
Resources