Recreation - Motorised Craft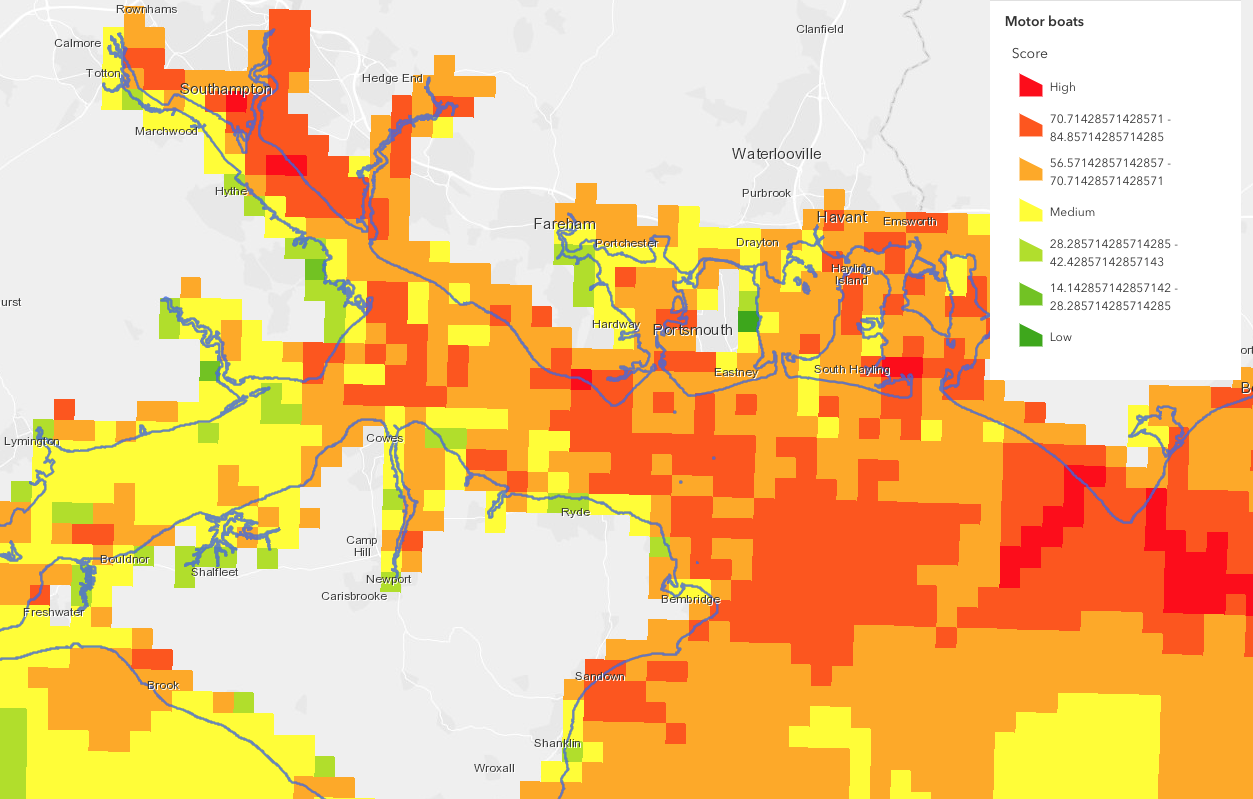 The activity includes the use of motorised vessels, including motorboats (powerboats) and yachts in marine waters. This category also includes watersports that are towed behind a motorised vessel including wakeboarding, waterskiing and parascending. In general, these activities take place in coastal, inshore and offshore waters all around the coastline where marina and berthing facilities, or launch facilities (slipways), are available. Although these activities are widespread, activity in England is most concentrated around the South East and South Coast, where there is the highest concentration of marinas and clubs.
Department of Transport data shows that there are approximately 14-16,000 available PWCs in the UK with about 1,200 new craft arriving each year. Their life expectancy is about 8 to 10 years. Over 90 per cent of new PWCs are sit-on craft with the remaining mainly used for organised racing. The average age of an owner is 35 and the majority of craft are 2/3 seater. In the last 5 years, over 19,000 PWC users have completed the Royal Yachting Association's (RYA's) PWC Proficiency Course. Statistics suggest that there are over 300,000 PWC users who enjoy this activity in the UK on a regular basis.
Activity Map
The map on this page illustrates the potential for motor boat activity in English waters as part of the MMO1064 marine recreation modelling project. The areas of highest potential are shown in red, progressing down through orange and yellow to green. Use the MMO Explore Marine Plans service for more detailed information.
Impacts
Natural England's publication 'Motorised watercraft (powerboating and sailing with an engine) (EIN027)' reports that the main impacts from this activity are:
Abrasion/disturbance of the surface and sub-surface sediment in shallow subtidal habitats through propeller/engine wash.
Underwater noise disturbance of marine mammals and birds, related to engine operation during the activity.
Above water noise and visual disturbance, of hauled out seals and birds related to people and/or vehicle noise during vessel launch/recovery from slipways and from people noise, engine operation and the vessel moving through waves (craft striking waves or 'hull slap') during the activity.
Visual disturbance of marine mammals and birds, related to the presence of people and the vessel during launch/recovery and during the activity.
Operation Wavebreaker
With more people holidaying at home, Hampshire Constabulary's Marine Support Unit are urging people to be considerate when using our waterways. In 2020, the team launched Operation Wavebreaker to tackle dangerous use of vessels and other anti-social behaviour in the Solent and other waterways across Hampshire and the Isle of Wight. The operation sees its Marine Support Unit working closely with partner agencies, including the RNLI and Maritime and Coastguard Agency, Harbour Masters, the MOD Police and others throughout the season to address and resolve issues.
Langstone Harbour Jetski Permits
LHB has a long running jet ski permit scheme which requires all participants to abide by harbour bylaws including the 10kt speed limit. From this year, participants will be required to send copies of their insurance certificates to be eligible for a permit. Skiers without formal qualifications will also be told that they will need to enrol in a certified jet ski accreditation course this year, as permits will not be issued without a qualification next season. In addition, anyone wishing to use a kayak, canoe or stand up paddleboard within harbour limits will be required to pay harbour dues.
Department for Transport Management
The DoT is looking to modernise laws and clamp down on dangerous driving of jet skis to protect the public and coastal areas. It proposes to bring recreational and personal watercraft, such as jet-skis and speedboats within the scope of the provisions of the Merchant Shipping Act 1995. Under the current system, local authorities (LAs) have the power to regulate speed and nuisance driving through byelaws, with the power to fine those breaching the rules up to £1,000. Although many LAs have introduced speed limits, signage and ID tags to prevent accidents, there remains a number of unmanaged waters around the UK.
---
National Watersports Participation Survey
A National Watersports Participation Survey is conducted annually by a consortium of leading marine bodies including British Marine, Royal Yachting Association (RYA), Maritime and Coastguard Agency (MCA), Royal National Lifeboat Institution (RNLI), British Canoeing (BC) and the Centre for Environment, Fisheries and Aquaculture Science (Cefas). Download the Executive Summary report, 2018. Key findings include:
With 2018 being the UK's joint hottest summer on record, it is no surprise that participation in watersports activities has increased. This was mainly due to a surge in the easy access activities – a higher proportion of people spent time at the beach and coastal walking in 2018 than previously
Summer remains the key season when most of the activity takes place, with over half of people participating between June and August
Participation in boating activities has remained consistent with last year which is positive given the decreasing consumer confidence and economic uncertainty as a result of ongoing Brexit negotiations. Boat ownership has also continued to increase, but this is largely as a result of more people owning canoes and kayaks
The proportion of Casual boating participants has increased; 145,000 more people have taken part once in an activity compared to last year. The proportion of Enthusiasts has however dropped, with 164,000 less people participating 6 or more times in their activity within the last year.
---
Resources